Bravo, Pelo, bravo. You made it through the testing. Now, can you keep this momentum even when the House of Wolves drops in Destiny next week...?
Yes, despite all sorts of distractions, a sudden urge to catch up on all the YouTube videos in my inbox, and a desire to memorize a bunch of Creepypastas, I have been able to complete the necessary testing to begin my new game, "Kings' Corners Solitaire".
My mother taught me this game about ten years ago, and the goal very simple. On a 16 x 16 grid, the Kings must be placed in the corners, the Queens must be on the top and bottom edges, and the Jacks on the left and right edges (see below). Any non-face card can be placed in any spot in this grid. Once all spots are filled, non-face cards can be removed in pairs if they equal 10 (example: 7 + 3, Ace + 9, 5 + 5, 10). Cards can be then placed again. This continues until the deck runs out.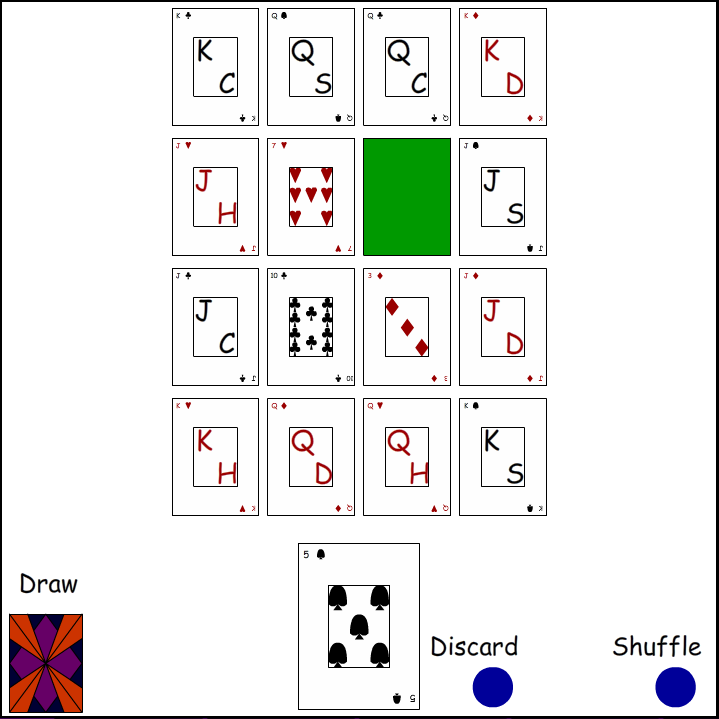 However, if a face card is drawn and all of its spots are filled, you instantly lose. For example, if you draw a King of Clubs and the corners are occupied by a 2 of Spades, King of Hearts, King of Spades, and a 7 of diamonds, you cannot place the King of Clubs in a corner and lose the game.
You also lose if you are unable to remove any of the non-face cards from the field. For example, if all face cards are in place and the 7 of Hearts, 6 of Spades, Ace of Hearts, and 2 of Clubs are in the center spots, you are unable to make pairs equal to ten and lose.
Either I suck at it, or it's a lot harder than it looks. It took me months to get my first win, and even then they are few and far between. And yet, I find it to be really fun and addicting. Maybe you will too?
In an interesting turn of events, saucybird has said he'd be willing to help make some music for it. Sweet!
~Pelo